Moral hazard or moral panic? Is social media warping the fragile minds of our children or is it the end of the atomised individual and the rediscovery of community? Is it a bit of both, and what might be done to improve the mix?
Baroness Floella Benjamin writes of her work on these questions through the APPG on a fit and health childhood, and Norman Lamb MP explains how the Science and Technology select committee is also looking at this.
This interest is perhaps to be feared and welcomed in equal measure. Feared, because the knee jerk response to moral panics tends to be to stop people doing things for their own good, but missing the real target. But welcomed because there is damaging content out there – there are people who don't cope well with this kind of world, as there were with every previous world, and there is much understanding to be gained that may benefit both individuals and legislators.
Floella writes
The Office for National Statistics (2016) found a clear association between longer time spent on social media and mental health problems. Young people who are heavy users of social media are more likely to report poor mental health, including psychological distress.

Seeing people online leading idealised lives can result in unhelpful comparisons, inadequacy, anxiety, self-consciousness, low self-esteem and the pursuit of perfectionism. Websites which normalise self-harm, eating disorders and the popularity of sites including distressing content such as live streaming of suicides are particularly worrying.
I have a rule of thumb for responding to 'people doing bad things with technology' problems – consider the same bad thing being done with yesterday's technology with which you are familiar. Remember video nasties? It is the act not the tools; the content not the delivery mechanism that are the issues.
And on the association between mental health and social media use, this goes both ways – as Norman writes
However, we should not be too quick to dismiss the potential benefits which young people enjoy from social media as well. It allows people to interact quickly and easily with others regardless of location and can be used for education and to raise awareness of important causes. Help in confronting mental distress is also available online through a number of websites and apps.

Interestingly, research by the University of East Anglia has found that "children in care benefit from the psychological, emotional and social support gained via social media networks…help[ing] maintain healthy and appropriate birth family relationships and friendships, make new connections and ease transitions between placements and into adult independence".

A report published by the Education Policy Institute also found that the use of social media can help to build up children's resilience and have a positive impact on mental wellbeing when used in moderation.
I suggest the association found by the ONS may be a case of correlation is not causation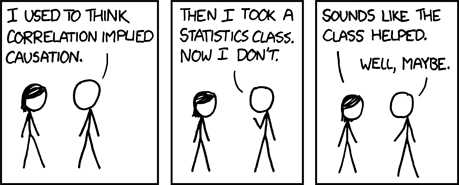 Correlation is not causation, but it is a generous source of confirmation bias. I am wary of where this debate is heading but I am reassured by Norman's plan (below) to consider the evidence.
…It is clear that for a variety of reasons – both good and bad – social media is here to stay, so there is little use in just highlighting its possible harms. Instead, our challenge as policy makers is to understand the evidence and then to ensure that the reach and influence of these platforms is harnessed in the most positive ways possible.

A growing body of evidence suggests that limiting levels of use could help to protect children from some of the more harmful effects of social media, along with better regulation of social media platforms to ensure they are held accountable for running their sites responsibly. Beyond this, there is also more we can do to empower young people to interact with social media as safely and beneficially as possible. I look forward to presenting concrete recommendations on this when my committee concludes its inquiry.
* Joe Otten was the candidate for Sheffield Heeley in June 2017 and Doncaster North in December 2019 and is a councillor in Sheffield.